Sobre o Dynamics 365 Business Central
Microsoft Dynamics 365 Business Central is a cloud-based enterprise resource planning (ERP) software solution designed for midsize organizations to streamline business operations and accelerate cash flow. This SaaS solution offers specialized functionality for business processes relating to manufacturing, distribution, government, retail, and other industries. The system was originally developed by Denmark-based Navision A/S until it was acquired by Microsoft in 2002. Microsoft Dynamics 365 Business Central offers applications for financial management, inventory management, human resource, quality management, multiple and international sites, project management, sales and marketing, service management, supply chain management and business intelligence. This ERP solution provides full customization and allows users to effectively manage any sales order, implement automated workflows, keep track of all inventory, and view in-depth data analytics. Microsoft Dynamics 365 Business Central deploys on the WindowsOS and Microsoft SQL Server and is developed on the .NET framework, This offers customers a tightly integrated stack from infrastructure to application.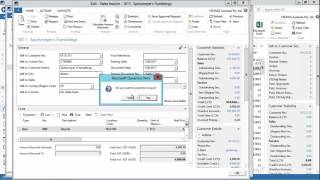 Preço do Dynamics 365 Business Central
Dynamics 365 Business Central não possui uma versão gratuita. Versão paga do Dynamics 365 Business Central a partir de US$ 8,00/mês.
Preço inicial:
US$ 8,00/mês
Detalhes dos preços:
Essentials: $70 per user, per month. Premium: $100 per user, per month. Team Members: from $8 per user, per month. Contact vendor for information on included features and additional pricing information.
Versão de teste gratuita:
N/D
Alternativas para oDynamics 365 Business Central
Avaliações do Dynamics 365 Business Central
Setor: Software
Porte da empresa: 1.001-5.000 funcionários
Usado

Diariamente

durante

Mais de dois anos

Fonte da avaliação
Relação qualidade/preço
5
---
Great ERP software with great integrations
I have been working with Dynamics NAV and Business Central for almost 4 years now, as a technical consultant. I install and implement BC on regular basis.
Also I support customers with technical issues around Business Cental, which I love to do.
The possibilities with BC are endless.
Vantagens
As a technical consultant, who installs and implements Microsoft Dynamics Business Central I find the integrations with all Microsoft's Azure applications a big plus.
Seamless integration with Microsoft's Flow, PowerApps, Outlook, etc work very well.
Desvantagens
There USED to be some disadvantages of Business Central, because for a long time Microsoft wasn't clear what course they would go. But now the course is set to the cloud (Azure) and I think that is the only way to go.
Setor: Serviços e tecnologia da informação
Porte da empresa: 2-10 funcionários
Usado

Diariamente

durante

Mais de um ano

Fonte da avaliação
Relação qualidade/preço
5
---
Best ERP software so far
The procurement process has been made easier.
Our asset management is now on point.
The human resource management especially the payroll management bit is awesome.
Vantagens
Dynamics 365 BC has a variety of tools including the procurement module, human resource module, and the finance module.
It has a interface that is user friendly and easy to use.
It's workflows are outstanding and carrying out an activity from one end to another is made easy. With the workflows, at least a track can be made on the movement of activities carried out in the system.
The ability to generate reports is a plus which is also easy.
Another good feature is that it can be customized to accommodate the user needs.
It is also compatible with Microsoft Excel such that one can export and import data between the two.
Desvantagens
At first, you will need some practice on how to manage it to avoid messing up with your crucial data.
Another issue is that running many processes at once can slow it down and this will force you to wait longer.
Razões para mudar para o Dynamics 365 Business Central
Dynamics 365 Business Central has a variety of tools that our organization needs.
Setor: Automação industrial
Porte da empresa: 51-200 funcionários
Usado

Diariamente

durante

Mais de um ano

Fonte da avaliação
Relação qualidade/preço
1
---
Beware!
None
Vantagens
Nothing. It is not nearly worth the 165,000.00 that we have put in to it over the last year.
Desvantagens
Everything. System does not work. Too many fields to jump around to, too many pages to jump to. Unable to keep pages open to work between. Unable to see Customer / Vendor numbers. Not enough character spaces in some fields. Document date does not pull in correctly on Payment Journal. Check Stub total dollar amount prints on top of check number of lower stub. No vendor number prints anywhere on the check or stub. System creates two or three numbers for every PO, Job, Invoice. Payment Journal populates every Vendor that has a transaction then you have to choose which one to pay and then delete what you don't want. Checks do not print out in Alphabetical order. I can go on and on. Nothing good to say about this Program. It is not even written for our Industry. We were not even listed in the choices for Industry. What does that tell you.
Setor: Logística e cadeia de fornecimento
Porte da empresa: 2-10 funcionários
Usado

Diariamente

durante

Mais de um ano

Fonte da avaliação
Relação qualidade/preço
3
---
Sehr gut,....und sehr teuer
Man sollte sich im Vorfeld schon ziemlich genau mit Business Central beschäftigen. Ausserdem sollte das Budget anfangs sehr großzügig ausfallen. Die Auswahl eines guten Systemhauses ist unabdingbar.
Wenn alles gut läuft, bekommt man dann aber eine Software, welche im täglichen Einsatz voll zu überzeugen weiss.
Vantagens
Mit dem passendem Systemhaus, guten Nerven und einem üppigen Budget lässt sich ein begeisterndes ERP zaubern. Anpassungen und Optimierungen sind nahezu keine Grenzen gesetzt,...für mehr Produktivität bei allen Abläufen. Wir konnten in allen Bereichen enorme Zeitersparnis erzielen. Die Arbeitsgeschwindigkeit ist ebenfalls überragend. Darüber hinaus arbeiten wir wesentlich präziser. Kunden, Lieferanten und Partner sind begeistert.
Desvantagens
"Out of the box" geht hier gar nichts. Nahezu alles muss angelegt, eingerichtet und definiert werden. Darüber hinaus fällt es anfangs sehr schwer, den Umfang und die Systematik von Business Central einzuschätzen. Wir kamen von einem "geschlossenen" System, bei dem man nach Eingabe der Stammdaten eigentlich direkt loslegen konnte. Dies funktioniert hier nicht. Im Ergebnis führt das zu viel Stress und hohen Kosten für die Entwicklung. Die ersten Wochen und Monate nach dem "live" sind echt nicht lustig.
Setor: Serviços financeiros
Porte da empresa: 2-10 funcionários
Usado

Diariamente

durante

Mais de dois anos

Fonte da avaliação
Relação qualidade/preço
4
---
Msft Dynamics as a CRM - there are other options
I think overall its a pretty solid software that if customizable would probably be one of my go to CRM recommendations.
Vantagens
I did like it's functionality with Outlook and other msft applications. There was little need to reorder things when exporting to excel and all that.
Desvantagens
I did find the lack of customizability of the software to be frustrating. It appeared that there were only pre-populated choices from a drop down list for most things, many of which did not fit what i was trying to label. Now, this could have been a byproduct of my companies enterprise subscription with dynamics, i am not sure.