Sobre o Clover
Clover POS is an integrated point-of-sale (POS) system with custom hardware designed for several types of retailers. This POS system is available in both web-based and server-based deployment versions and offers countertop hardware options, a mobile POS option, contactless payments, plus more. Clover Dining is the main POS app built specifically for restaurants. With the Clover POS system, businesses can streamline payment processing, sales, and inventory management, plus more. Clover can replace outdated processes involving a cash register, paper receipt printer, label printer, barcode scanner, plus others. Payment processing supports PIN and chip card payments, credit card swipes, Apple Pay transactions, and contactless payment types. Additionally, the Clover POS program integrates with QuickBooks, includes a time clock to track clock-in and clock-out times, and manages vendor maintenance and purchase orders. Hardware components offered include the countertop Clover Station, Clover Go card reader, Clover Mini POS station, the Clover Flex mobile payment processor, plus more. Additionally, the Clover App Market offers various solutions including gift card branding, marketing promotions, detailed analytics, online store integration, plus more. With the Clover POS dashboard, businesses can visualize key data metrics in real-time. Other features include order tracking, menu editing, and data reporting.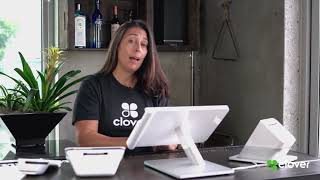 Clover não possui uma versão gratuita, mas oferece versão de teste grátis.
Detalhes dos preços:
Clover point of sale systems arrive payments-ready, with rates starting at 2.3% + 10¢ per transaction. Contact Clover for detailed pricing information.
Versão de teste gratuita:
Sim
Alternativas para oClover
Setor: Hospitais e Saúde
Porte da empresa: 1.001-5.000 funcionários
Usado

Diariamente

em

Mais de dois anos

Fonte da avaliação
Relação qualidade/preço
0
---
Use in my small businees
Clover has been an excellent option for taking payments in my stores.
Vantagens
My coffee shop uses clover devices as our POS system. The software is convenient and easy to place in a store. It features many apps that make it applicable to nearly any market. They also have many accessories- the main one we use are the receipt printers (small and regular size), the handheld tablet, and the customer interface screen.
Desvantagens
Over time the clover tablets do slow down. We frequently reboot them to rev up the speed.
Setor: Entretenimento
Porte da empresa: 2-10 funcionários
Usado

Diariamente

em

6 a 12 meses

Fonte da avaliação
Relação qualidade/preço
3
---
Almost Great...
My overall experience with clover has spanned from the creation of menus and items with sub menus and add ons for each item, as well as specials for days of the week as well as happy hour times to daily usage for pos transactions. Overall I have been very happy with everything, other than the need to set up account through bank, as I mentioned before.
Vantagens
I love how easy it is to use clover for grab and go, sit down service, or retail services. It is the only pos system I know of that is easy to use for one or all three of the above type of service. With one pos you can easily switch apps and have optimized layout and design for each of the above, while keeping the same items and menus/submenus.
Desvantagens
I dislike that it has to be used through your bank. It makes it really hard for management to have the ability to access customer support and full features, since most owners dont want their employees, even management, to have access to full banking info.
Setor: Hotelaria
Porte da empresa: 10.000+ funcionários
Usado

Diariamente

em

Mais de dois anos

Fonte da avaliação
Relação qualidade/preço
4
---
A modern processor .
Vantagens
The interface has a futuresque feel to it . You have the option to input the information directly on the cloud and this is both more convenient and more efficient. Changes sync up instantly and people , thousands of miles from each other , can work on the same data in real time .
Desvantagens
Singled out transactions come with a lot of additional data ,that for us personally is not necessary. This makes Clover not that printer-friendly when it comes to our specific niche .
Refunding takes more effort than ideal .
Setor: Varejistas
Porte da empresa: 2-10 funcionários
Usado

Diariamente

em

6 a 12 meses

Fonte da avaliação
Relação qualidade/preço
2
---
Clover Pos
From the pos system itself, we are multistore, so that is added complications for the clover system. On the register side, looking up customer names is complicated, you type the last name, but cannot enter the full name or it will not find it, so you enter the last name and have to scroll through the list of lets say 50 last name of smith, takes way to much time, and really difficult on the mini with the small screen. To increase quantity you have to go to another screen and then back again, more time, If one person does a price check by entering an item because a customer wants the total with tax, even though you delete the item, or clear open order, if a second sales person then logs in to check someone out the order still reads with the first person doing the sale even though they logged out. From the dashboard side, no ability to print many things such as transfer slips from HQ to the other 3 stores, once it is transferred it is on the screen until the store accepts the item in, after that the info is gone, and you cannot access for questions, etc. the lack of alphabetical order on many functions, the tax functions, if you use different tax rate for each of our 3 taxing authorities, as we did (and would prefer) say you have 10,000. in sales, 3 tax rates, when they are done separately the total income would then become 30,000.00, so many of the reports are not accurate as they read.
Vantagens
clover has been making some updates in the months since we have been using them, which have been good and helpful, but much is needed to make it functional for a multistore, without having to pay way to much monthly for apps to do things
Desvantagens
to get even what I would consider basic functions, purchase more apps that would raise the monthly cost out of reach, sometimes the apps will show different figures, when creating an item, for our multistore setting, I can create for all 4 locations at once, with name, label, category, cost, price, but the tax rate, I have to go into a different screen for each location and fix all tax rates, very time consuming
Setor: Contabilidade
Porte da empresa: 10.000+ funcionários
Usado

Diariamente

em

Mais de um ano

Fonte da avaliação
Relação qualidade/preço
0
---
Clever Clover!
We had dinosaur service prior to the Clover Mini, at least half of the time you would have to go online and key everything in because the reader didn't work. Clover feels and looks and acts like the rocket age!
Vantagens
We have a Clover mini in our offices. It is quite sharp looking, and sooooo intuitive to program for each office as well as use for check or charge, AND to research entries. It takes a little getting used to the icons, but they do make sense once you get used to it. Great instructions came with it for the set-up as well. Love it!!!
Desvantagens
There is nothing I can think of that I do not like about this product, or that they could even improve upon! It is terrific!