Sobre o PioneerRX
PioneerRx is a pharmacy management solution that helps independent pharmacies manage their business by supporting their day-to-day activities. It can be deployed either on-premise or in the cloud. The primary features of PioneerRx are adherence and medication therapy management (MTM), financial intelligence, inventory management, point of sale (POS) and reporting. The software has a built-in medication synchronization program that allows users to track the prescription cycle of patients. The MTM feature allows users to monitor the adherence level of their patients to prescribed drugs and generate alerts in case of any miss. PioneerRx helps in monitoring financials such as account receivables, cash price analysis and third-party reconciliation. The inventory management module helps in usage-based ordering, loan tracking and auto-reorder points. Users can generate custom reports and export them in Excel or PDF formats. The software also has mobile apps, PioneerRx and RxLocal, for Android and iOS devices.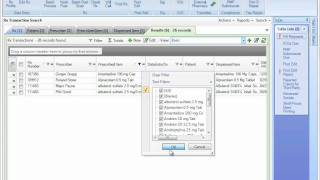 PioneerRX não possui uma versão gratuita.
Versão de teste gratuita:
N/D
Alternativas para oPioneerRX
Usado

Diariamente

em

Mais de dois anos

Fonte da avaliação
Relação qualidade/preço
5
---
I am very impressed with PioneerRX's functionality and versatility.
The ability to customize the software to maximize our workflow is great. We also love the ability to glean data from PioneerRX to analyze our business.
Vantagens
The best aspect of PioneerRx by far is their customer service (Erica, in particular is great). They are very responsive to help requests, often calling back within minutes of a request. They are willing to spend as much time as needed with you until you are satisfied the issue has been resolved. In the rare instance they are unable to answer your question right away, they will forward the issue to someone who can answer the question and most importantly, they follow through with you.
The PioneerRx software itself is amazing. The software can be customized to fit your workflow. There is a wealth of information waiting to be explored within PioneerRX. There are many ways to leverage PioneerRX to maximize workflow and profitability.
Another positive aspect of PioneerRx is the online community of current users. There are forums for anyone who has questions about how certain aspects of PioneerRX work in a practical setting. There is also a way to upvote requests from users, so that you have some input in how PioneerRX is developed in the future. Being so open to feedback is just another great aspect of their customer service. Overall it is the best pharmacy software I have used, to date.
Desvantagens
There is nothing in particular that I do not like about PioneerRX. I would like the developers of PioneerRx to continue to listen to the community regarding changes they wish to see in Pioneer.
Setor: Varejistas
Porte da empresa: 2-10 funcionários
Usado

Diariamente

em

Mais de dois anos

Fonte da avaliação
Relação qualidade/preço
4
---
Great product with great support
I bought Pioneer in 2013 after using QS1 for 20 years. The system did not transfer the competitive prices from QS1 that I had set into the old software, and I had difficulty in maintaining a good margin on low priced generics as well as maintaining continuity on pricing, especially generics. After muddling through it for 3 years and doing the best we can, and voicing my frustrations on this site, Pioneer called me and said they wanted my issues resolved and volunteered to send a rep to my store for the better part of 3 days.
Customer support representative was exceptional in his willingness and ability to explain and resolve my issues. I was able to get better control over my generic pricing and he also led us to a multitude of other issues to better utilize what Pioneer offered the independent pharmacy.
My staff loves it. It does a great job managing our profit/loss issues (with the DIR exceptions) and I may be able to save money by d/cing other programs that Pioneer can handle. My biggest recommendation would be that if you aren't happy with the product, ask them to fix it. don't give up until you get results. It can do a lot more than you think it can. the on site training is somewhat limited. I wish they would have spent more energy into pointing out things at time of installation (perhaps a checklist, provided by current users, would help). I am a bit old school and Pioneer is a highly technical software so the learning curve was a bit steep for me.
I would recommend this software over QS1 and am very happy with the service they provided.
Vantagens
it can do just about anything once you figure out how to work it.
Desvantagens
it is technical and a bit convoluted so may require some serious training. the learning curve might be a bit steep.
Usado

Outro

em

1 a 5 meses

Fonte da avaliação
Relação qualidade/preço
1
---
terribly inefficient software
none
Desvantagens
Nour advised PioneerRx that the software which was represented to be simpler, was actually much more complex to use. Specifically, Nour advised PioneerRx of the following problems:
There are too many statuses; many more than the essential will call, filling que, in-take que, rejection que and on order.
75% of the data entry screen is blank and all of the essential and a significant amount of non-essential information is shown in a small font on the other 25% of the screen. It is unorganized, not in the same format as the prescription is laid out.
The data entry itself is more difficult than Supreme Royal Pharmacy Software which allows the user to browse with a tab button through a prescription.
Nour was told PioneerRx integrates with PK Software, but it does not.
Nour was told QR Code could be printed, but it cannot.
Textphone notification must be manually turned on for each individual patient which is a significant amount of extra work collecting carrier date on each patient.
Escripts do not auto-populate adding more work for the Pharmacy.
Setor: Hospitais e Saúde
Porte da empresa: 11-50 funcionários
Usado

Diariamente

em

Mais de dois anos

Fonte da avaliação
Relação qualidade/preço
5
---
I love this software! It is intuitive, functional and I have access to any information I might...
Functionality, and improved workflow, reporting and tracking.
Vantagens
Almost everything! Any data that I need to report out is available and can be customized in a usable format. Pioneer's processes and workflows have decreased our processing times and added the accountability of always knowing where a prescription is at in the workflow. The checking process, the interfaces, and the functionality is top of the line and continually improving. Pioneer offers many features that help us compete with the chains (provider lookup, insurance lookup, driver's license scanning, data submission to immunization registries, sync fill, loyalty plans, etc.). Additionally, they continually add new features or make changes to improve the system. The customer support is amazing! I have not had any issue that couldn't be resolved. Either a solution was already available, or a solution was developed to meet the need. I have never received this kind of responsiveness from any other software vendor. It feels like a partnership.
Desvantagens
I would like to see more detailed training on new functionality. I am always made aware of new features, but sometimes struggle to completely understand all of the steps needed to implement the new features--without calling in to the support line.
Setor: Indústria farmacêutica
Porte da empresa: 2-10 funcionários
Usado

Diariamente

em

Mais de dois anos

Fonte da avaliação
Relação qualidade/preço
5
---
Best balance of ease of use and security features
Vantagens
- Highly customizable workflow
- granular admin, pharmacist and tech access controls
- Custom Rx Audit report make life easy for desk audits
- DIR estimator
- Profit report can be generated factoring in estimated DIR or GER fees
- Cash pricing estimator based on chain competitors near you
- POS and sale data can be accessed from any workstation & POS integrated within Rx module
- Control medication Perpetual Inventory can be maintained within the software ❤
- Training portal gives admin, a clear view of progress in training for each staff member
- Customer ID info is available at the POS window as well as Pharmacist verification screen
- Create patient profile by simply scanning Drivers License
- PMP data submitted automatically
- More secure since program can run without needing windows admin privileges ( helps prevents unauthorized software program installs )
Desvantagens
- Onboarding & maintenance cost is high compared others in the market. ( worth the cost though )
- Patient profile history could use a search feature instead of filtering
-