Sobre o Jazva
Jazva is a cloud-based e-commerce management solution with an array of functionalities for small to midsize B2B and B2C retailers that operate on a variety of online marketplaces and ship their goods from multiple warehouses or fulfillment centers. Jazva's e-commerce suite offers a set of features for online sales. The platform's capabilities cover multi-channel product management, listing management, order fulfillment, FBA (Fulfillment by Amazon), interactive reporting and analytics tools, inventory management and customer relationship management (CRM). Jazva's inventory management module offers kitting, bundling and virtual products that can be accommodated for a variety of business requirements. Users are able to customize as many tiers as needed for customer-specific pricing tax and shipping information. Users can purchase a license for Jazva based on order volume, sales channels and desired features. Jazva is currently available only in the United States.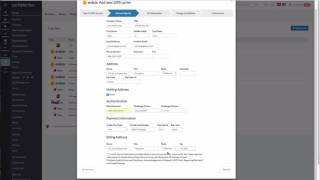 Jazva não possui uma versão gratuita. Versão paga do Jazva a partir de US$ 400,00/mês.
Preço inicial:
US$ 400,00/mês
Versão de teste gratuita:
N/D
Setor: Varejistas
Porte da empresa: 2-10 funcionários
Usado

Diariamente

em

6 a 12 meses

Fonte da avaliação
Relação qualidade/preço
4
---
Jazva Review
Shoreline Handwerks, LLC is a small business focused on selling a full range of quilting fabrics, quilting notions and supplies. Shoreline has several sales channels including eBay, Amazon, Woo Commerce Web Store and a brick and mortar shop.
A vital link, which Jazva fulfills, is the tracking of inventory related transactions including order consolidation, stock management and order shipment across all sales channels.
In late 2015 Shoreline initiated a contract to develop a Woo Commerce Web Store. At that time, order consolidation and inventory tracking was accomplished by another vendor who committed their software would integrate with all our sales channels. After many failed attempts the vendor admitted that there was no Woo Commerce integration.
Shoreline then undertook a search for a software vendor capable of integrating across its sales channels, which resulted in finding several vendors including Jazva. Much to our surprise no one vendor could provide a complete solution however Jazva did commit to the completion of their product offering to include Woo Commerce.
For Shoreline, the migration from a simplistic product set to a very rich and complete application was challenging but Jazva support met that challenge and we are now enjoying the benefits of that effort.
While the migration was on-going Jazva completed their build out of the Woo Commerce integration and Shoreline does in fact have integration across all its sales channels.
Although Shoreline has yet to use all the functionality of Jazva, the foundation is in place to do so. As Shoreline grows we are sure that Jazva can accommodate that growth with no anticipated issues.
Vantagens
Very rich product set. Very good customer/technical support. Cloud based with minimal down time. Very fast transaction response time.
Desvantagens
Report writer not intuitive. Support is on west coast time. No ios based app that can access Jazva functioality.
Setor: Varejistas
Porte da empresa: 11-50 funcionários
Usado

Diariamente

em

Mais de um ano

Fonte da avaliação
Relação qualidade/preço
5
---
Excellent Inventory Management Software
Jazva has allowed us to integrate several different sales channels including our website into one unified system. Using Jazva saved our company huge amount of time and money on inventory maintenance and order fulfillment. The support staff was there every step of the way to assist us in the integration process and help us every way they could.
Vantagens
Jazva synchronizes our inventory with our eBay, Amazon and our WooCommerse website automatically whenever a product sells on either one of the platforms. This level of integration allowed us to save tremendous amount of time on fulfilling orders and getting them out on time. One thing I would like to note is the amazing support staff. They work on West Coast time but are one click away on any page inside Jazva for us to reach out to them using the live support button and help with any issues we might run into.
Desvantagens
Lack of documentation on the reporting portion of Jazva. Jazva has a really deep reporting features that will help you see the little details about every order and performance of your company but unfortunately the documentation in their help center is lacking in details on how to maximize the use of said feature.
Setor: Varejistas
Porte da empresa: 2-10 funcionários
Usado

Diariamente

em

Mais de dois anos

Fonte da avaliação
Relação qualidade/preço
3
---
OK for a starter OMS/WMS. Not for a growing company.
Jazva was what we needed as a new business, however once we started growing, they couldn't. The support was not good. They often tried to play the blame on sales channels or users who they thought were new. OK as a start up OMS/WMS.
Vantagens
Easy to navigate and layout was great. Could customize reports which was a plus! Inventory/warehouse management was good.
Desvantagens
Support was NOT good. Many times your issues were blamed on the sales channels when it was in fact a Jazva issue. Took support long times to assist. Had limited integration. No customization. No room for growth.
Resposta de

Jazva

Dear April,
Thank you for the review.
Jazva is always working to make the platform better for its users, as here we value each customer, their business and their time.
We have grown so far, and not only small businesses but also large ones enjoy working with Jazva.
We do not only make improvements in the platform itself, but inside Jazva Staff as well.
Together with our well-trained implementation team, you will start your journey with Jazva from the very first day. Our Support and Implementation team is working 24/7 and is always ready to help you.
If there is any way to earn Your business in the future, please, let me know.

Best regards,
Maria
Jazva Support Team

Respondido em 23/03/2021
Setor: Importação e exportação
Porte da empresa: 11-50 funcionários
Usado

Diariamente

em

Mais de dois anos

Fonte da avaliação
Relação qualidade/preço
0
---
Loaded functions!
Vantagens
Lots of functions and clear data. Makes it very easy to send items to multiple market places.
Desvantagens
Sometimes have to fix the ebay listings as the fields for Amazon and ebay are different.
Setor: Automotivo
Porte da empresa: 2-10 funcionários
Usado

Diariamente

em

Mais de dois anos

Fonte da avaliação
Relação qualidade/preço
5
---
We Cant Live Without It!
Jazva has been great for us. As a small company of under 10 employees, it was advanced enough to handle a company that could easily need 15-20 employees without the system. The cloud/online accessibility for us is major. As a VP of the company I'm always out the office, but I'm always connected to the company. I also am able to bring commerce with our company on the road with Jazva, and no need for external devices. Never know when a sale is possible on the spot, or an inventory check is needed, and i can just pull up the site on my cell phone, log in, and make it happen.
But lets talk about what really matters to a smaller, but growing business like ours. THE CUSTOMER SERVICE RELATIONSHIP! We feel we have a partner in Jazva thats big enough to handle our wildest dreams (ok, maybe wildest realities), but also be there for us as a small company growing and learning. The experience feels very custom and tailored to our company. They feel like extended partners of ours, that we might not feel with other companies unless we were spending millions with them.
I have no idea where we would be without Jazva, and i honestly do not want to know.