Sobre o LiveAgent
LiveAgent is an online live chat platform for e-commerce businesses at the small and midsize level. The platform offers live chat application, ticket management, online self-service portals and change and license management, all as either in-suite or standalone applications. LiveAgent offers a selection of broader customer relationship management (CRM) applications, such as marketing and sales force automation in cooperation with a variety of third-party software companies. It is a customizable solution that can scale as small companies grow their customer base and online services. The software provides a ticket management system where ticket contains the complete stream of chat messages, emails, phone calls, or messages from other communication channels between the customer and support staff of the company. LiveAgent is offered as both web-based (cloud) software and on-premise installations. The cloud option is priced on a pay-per-user basis by a number of agents, and the on-premise options use the up-front pricing model, based solely on the number of agents.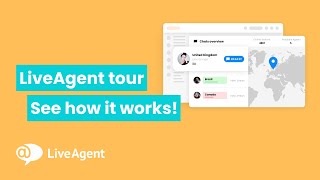 LiveAgent possui uma versão gratuita e oferece versão de teste grátis. Versão paga do LiveAgent a partir de US$ 15,00/mês.
Preço inicial:
US$ 15,00/mês
Detalhes dos preços:
14-day free trial, no credit card required. Subscription plans: Free: $0/agent/month Ticket: $15/agent/month Ticket + Chat: $29/agent/month All-inclusive: $39/agent/month Self-hosted licenses: Downloadable: $11,950 - 20 agents included, +$690 for each additional agent. Enterprise: $34,950 - 50+ agents.
Versão de teste gratuita:
Alternativas para oLiveAgent
Setor: Serviços ao consumidor
Porte da empresa: 11-50 funcionários
Usado

Diariamente

em

Mais de um ano

Fonte da avaliação
Relação qualidade/preço
5
---
Ótimo custo benefício
Vantagens
Utilizo o LAdesk todos os dias na minha rotina, e é uma ferramenta muito simples e dinâmica de se trabalhar, desde o meu primeiro dia não encontrei dificuldades.
Se comparado com outras ferramentas de CRM na questão Custo X Entrega, acredito ser uma das melhores do mercado.
Desvantagens
O live chat é uma ferramenta que ainda precisa ser um pouco aprimorada, a visualização dele na tela do agente não é tão boa.
Resposta de

QualityUnit

Thank you very much for your honest feedback, Daiane :) I am very glad that LiveAgent is helping you in your day to day work! Feel free to shoot us with any suggestions at [email protected] and we will be happy to pass it on to our developers :)

Respondido em 08/04/2020
Setor: Varejistas
Porte da empresa: Profissional autônomo
Usado

Mensal

em

1 a 5 meses

Fonte da avaliação
Relação qualidade/preço
5
---
otimo
fantástica!
Vantagens
a facilidade e funcionalidades de fácil manuseio..
Desvantagens
tudo muito bom nao tive e nao estou tendo nenhum problema ate o momento!
Resposta de

QualityUnit

Hello Tais, thanks a lot for your amazing feedback! You know where to find us should you need anything! :)

Respondido em 25/01/2021
Setor: Materiais de construção
Porte da empresa: 51-200 funcionários
Usado

Diariamente

em

1 a 5 meses

Fonte da avaliação
Relação qualidade/preço
0
---
Great Features & Great Speed
LiveAgent is helping us convert initial chat enquiries visiting our website into qualified sales leads. We provide a niche product to the very top of our market so being able to qualify enquiries at this initial stage is important to us. The other key outcome is LiveAgent has no impact on our site loading speed. We identified ZenDesk, our previous chat solution, was impacting out site loading speed - and therefore potentially impacting our SEO strategy. From a free trial, we found LiveAgent has zero impact on our site loading speed - we now have a better chat solution AND a faster loading webiste.
Vantagens
We use LiveAgent to manage chat conversations on our website with the aim of converting initial enquiries into qualified sales leads. There is afar great functionality than our previous chat software solution and is far more customisable, with options to brand and personalise it to our business. The other key feature for us is that it is the number one ranked chat widget for website loading speed, an important part of our SEO strategy.
Desvantagens
There is so much more functionality and ability to personalise LiveAgent than our previous chat software (ZenDesk) so set up took a little longer - but the ultimate outcome has been far superior.
Resposta de

QualityUnit

Hello Barney, many thanks for your great review! It means a lot to us and we are super thrilled to hear that you are happy with the platform and the chat solution LiveAgent is offering. We understand that it is necessary to manage all the tickets from the very beginning as each customer is important and should be taken the best care of and that is why LiveAgent makes sure that no ticket is skipped or left out! Just remember that our support team is always ready to help so feel free to start a chat on our website should you have any questions! :)

Respondido em 25/03/2020
Setor: Software
Porte da empresa: 11-50 funcionários
Usado

Diariamente

em

Mais de dois anos

Fonte da avaliação
Relação qualidade/preço
5
---
Excellent Experience Overall - I Recommend LiveAgent
The customer support team for LiveAgent has been excellent, helping work through our needs and how LiveAgent can meet those. The application has helped us improve our management support items.
Vantagens
For day-to-day use, it is very intuitive for our client services team; the interface is visually intuitive, with colour coding that makes easy to see which tickets need attention and when. The automatic rules also offer a large amount of flexibility in managing support tickets and providing the right information to our team.
Desvantagens
Some basic features are not yet included; e.g. instead of responding to an individual message, you have to forward that message, and choose all the recipients again. However, I've noticed that new features are available often, and I am confident inconveniences such as this will be resolved with time.
Resposta de

QualityUnit

Hi Jacob,
Thank you for such a nice review. We pride ourselves in making our software feel natural and simple to use and are glad to see the work is paying off. That said, there are always areas where we can improve and will continue to do so to provide the best helpdesk software on the market.

Respondido em 12/02/2020
Setor: Serviços e tecnologia da informação
Porte da empresa: 11-50 funcionários
Usado

Diariamente

em

1 a 5 meses

Fonte da avaliação
Relação qualidade/preço
5
---
Great product for managing client tickets
It has been a great experience so far in managing client tickets and the best part is that the platform is highly customisable to suit our companies needs and taste.
Vantagens
The product is extremely easy to use and the navigation is user friendly. And has all the features required for managing a ticketing system.
Desvantagens
It would be great to have time to record features against each ticket. Currently, we have to use another platform (TimeNEye) to do that for us.