Sobre o Nimble
Nimble offers browser widget and mobile-based sales force automation and social CRM solution for small and midsize businesses. The solution automatically populates customer profiles and interaction histories from contact lists, email conversations and social media activity across a range of popular platforms including LinkedIn. In addition to contact and pipeline management features such as deal tracking, task management, and alerts, Nimble also includes integrated social listening to keep customer profiles updated. This allows businesses to track which contacts are mentioning, following or engaging with them, or who are celebrating milestones such as birthdays—which in turn creates valuable opportunities for informed outreach and follow-ups. Nimble's "Today Page" offers one comprehensive view of to-dos, key deals and engagement opportunities. These are generated by Nimble's "Rules Engine," which learns from user behavior to prioritize social signals and predict which contacts and opportunities are most relevant. Nimble also offers a range of email widgets, allowing users to view rich, contextual detail from their contacts' Nimble profiles even from outside the system.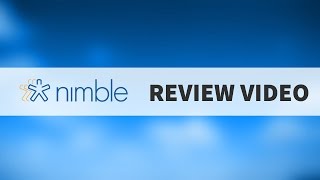 Nimble não possui uma versão gratuita, mas oferece versão de teste grátis. Versão paga do Nimble a partir de US$ 19,00/mês.
Preço inicial:
US$ 19,00/mês
Versão de teste gratuita:
Sim
Alternativas para oNimble
Setor: Varejistas
Porte da empresa: 501-1.000 funcionários
Usado

Semanal

durante

6 a 12 meses

Fonte da avaliação
Relação qualidade/preço
4
---
Nimble
Excelente software para controlar suas atividades, tarefas e objetivos. Permite visualizar o andamento das tarefas. É possivel fazer por setores, por responsabilidades o que torna muito mais fácil de verificar como está o objetivo de cada setor.
Vantagens
Excelente software para controlar e acompanhar seus OKR´s.
Desvantagens
Falta melhorar os gráficos e a tornar mais acessivel o acesso por trimestre.
Setor: Agricultura
Porte da empresa: 2-10 funcionários
Usado

Diariamente

durante

Mais de dois anos

Fonte da avaliação
Relação qualidade/preço
0
---
Simple & Effecient
Overall I have been happy with this product. It keeps evolving and keeps getting, generally better. The customer service is over the top. Quick response, always there if we have a questions. I like that!
Vantagens
Easy to assign tags and group the ones you want to use to target specific groups for marketing purposes.
Desvantagens
New UI for data entry is not as efficient as it used to be. Still simple but simple data priorities such as which phone number is primary is no longer available. You actually need to open the whole contact window to see all the data while before the summary gave the most important info.
Setor: Contabilidade
Porte da empresa: 2-10 funcionários
Usado

Diariamente

durante

Mais de um ano

Fonte da avaliação
Relação qualidade/preço
4
---
Nimble Review: The Difference of Opinions with Business Owners
Overall I truly enjoyed Nimble. It did not take me forever to figure out how to use and become comfortable with Nimble. However, my husband decided he wanted to go for a different CRM. I was not happy and disagreed but he moved us on to another product which is not half bad.
Vantagens
The Customer service for this application was amazing. This is hard to find in a lot of CRMs. For Nimble it did not require a lot of time getting used too. It was easy to navigate and easy to help other people learn the system. For the computer system, the application is light and moves faster. I don't believe I have ever had the app crash on me while in the process of using it. For a small business owner, it has a fair and reasonable price. This system is really good for tracking time sheets and scheduling. There was never any confusion about which person was taking which job with this section of the application.
Desvantagens
The menus are difficult to find as some of them are hidden, you often have to take a moment to search for them. The limits on the email are quite frustrating. It also does not come with much storage and that can also be frustrating when trying to save and keep things organized.
Setor: Gestão de organizações sem fins lucrativos
Porte da empresa: 11-50 funcionários
Usado

Semanal

durante

6 a 12 meses

Fonte da avaliação
Relação qualidade/preço
4
---
If you can't afford to hire a systems administrator, Nimble can be a great substitute
My overall experience with Nimble has been great. When I decided on starting a part-time business management consultancy gig on the side, my biggest worry was how I was going to find the time to merge both effectively. Nimble has made that process seamless and absolutely stress-free.
Vantagens
What I like the most are it's automation and contacts management features. The ease with which I signed up for the free trial and subsequently upgraded after successful testing was my first indication of how good working with Nimble would be. Doing this as a part time consultancy gig, the effectiveness and efficiency of Nimble's automated processes allows me to save a lot of time on tasks and activities that would have taken up a whole lot of time from my work week.
Desvantagens
Some features are not easily accessible with the way the interface is laid out. Which means for a first time user, you might have to spend a bit of time acquainting yourself with the program. But honestly, since it hasn't interfered much with my work or that of my clients' whose accounts I manage, I couldn't complain.
Setor: Software
Fonte da avaliação
Relação qualidade/preço
0
---
Mixed results. Flawed, but still the best match for us.
Vantagens
We researched ~10 CRM solutions for our small software contracting company (9 people), to help keep track of leads and communications. We have some frustrations with Nimble, but at least as of the last round of reviews it was the best match for our business.
Things we like:
* Price point is reasonable
* Automatic integration with gmail - communications over email with a contact show up with no extra work from us
* Automatic integration with social media
* Shared information with several people on our team
* Reminders to stay in touch with people can be easily created at the same time the contact is created
Desvantagens
I have a number of frustrations with ranging from small to moderate. They are:
1) Can only integrate one social media account of each type. Fixing this has been "coming soon" for about eight months. Right now it means I need to decide between my business Twitter account (the official face of the company), and my individual Twitter account (which has 20 times as much traffic). I interact with business contacts via both and can only track one.
2) The Deals tracking tool has several deficiences:
2.1) The Deals view is wider than the page, which requires annoying scrolling with an embedded horizontal scrollbar, and you can't see it all at once. (Deals columns: 1570 pixels. Page width: fixed 1200 pixels, even if your browser is 2000 pixels wide.)
2.2) The "stages" of a deal have an arbitrary maximum limit of 99 days in stage. In my industry, initial contacts often turn into paying work 8-12 months later after companies complete fundraising. Nimble can't handle this.
2.3) There's no way to hide or "put on ice" a deal that is suspended temporarily. You can only close the deal as "won" or "lost". See above, I frequently have leads disappear for a year and then come back to hire us. Unless I want to lose the work I've entered, my only option is to keep all possible leads visible in case they come back eventually.
3) Nimble has its own separate contacts database from my Gmail contacts and no tool built in to synchronize them automatically. I have to use a 3rd-party tool to sync them, and it's fiddly to keep working right. Right now, I think it hasn't worked in a couple of months.
4) The Chrome plug-in to help you enter contact info from Gmail or from a web page is inconsistent. Frequently I select or hover contact name or info, but the plug-in doesn't detect it and I end up having to enter the contact manually anyway.