Sobre o Clover
Clover POS is an integrated point-of-sale (POS) system with custom hardware designed for several types of retailers. This POS system is available in both web-based and server-based deployment versions and offers countertop hardware options, a mobile POS option, contactless payments, plus more. Clover Dining is the main POS app built specifically for restaurants. With the Clover POS system, businesses can streamline payment processing, sales, and inventory management, plus more. Clover can replace outdated processes involving a cash register, paper receipt printer, label printer, barcode scanner, plus others. Payment processing supports PIN and chip card payments, credit card swipes, Apple Pay transactions, and contactless payment types. Additionally, the Clover POS program integrates with QuickBooks, includes a time clock to track clock-in and clock-out times, and manages vendor maintenance and purchase orders. Hardware components offered include the countertop Clover Station, Clover Go card reader, Clover Mini POS station, the Clover Flex mobile payment processor, plus more. Additionally, the Clover App Market offers various solutions including gift card branding, marketing promotions, detailed analytics, online store integration, plus more. With the Clover POS dashboard, businesses can visualize key data metrics in real-time. Other features include order tracking, menu editing, and data reporting.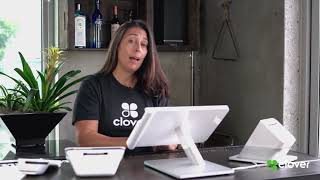 Clover não possui uma versão gratuita, mas oferece versão de teste grátis.
Pricing Details:
Clover point of sale systems arrive payments-ready, with rates starting at 2.3% + 10¢ per transaction. Contact Clover for detailed pricing information.
Versão de teste gratuita:
Sim
Alternativas para oClover
Industry: Hospitais e Saúde
Company size: 1.001-5.000 funcionários
Usado

Diariamente

durante

Mais de dois anos

Fonte da avaliação
Relação qualidade/preço
0
---
Use in my small businees
Clover has been an excellent option for taking payments in my stores.
Vantagens
My coffee shop uses clover devices as our POS system. The software is convenient and easy to place in a store. It features many apps that make it applicable to nearly any market. They also have many accessories- the main one we use are the receipt printers (small and regular size), the handheld tablet, and the customer interface screen.
Desvantagens
Over time the clover tablets do slow down. We frequently reboot them to rev up the speed.
Industry: Entretenimento
Company size: 2-10 funcionários
Usado

Diariamente

durante

6 a 12 meses

Fonte da avaliação
Relação qualidade/preço
3
---
Almost Great...
My overall experience with clover has spanned from the creation of menus and items with sub menus and add ons for each item, as well as specials for days of the week as well as happy hour times to daily usage for pos transactions. Overall I have been very happy with everything, other than the need to set up account through bank, as I mentioned before.
Vantagens
I love how easy it is to use clover for grab and go, sit down service, or retail services. It is the only pos system I know of that is easy to use for one or all three of the above type of service. With one pos you can easily switch apps and have optimized layout and design for each of the above, while keeping the same items and menus/submenus.
Desvantagens
I dislike that it has to be used through your bank. It makes it really hard for management to have the ability to access customer support and full features, since most owners dont want their employees, even management, to have access to full banking info.
Razões para escolher o Clover
Better overall bundles and all inclusive services made clover a sole replacement for multiple previous softwares.
Razões para mudar para o Clover
Again it allowed for the use of only one company/software versus having to use multiple items for different needs such as pos transactions, inventory, scheduling etc.
Industry: Software
Company size: 2-10 funcionários
Usado

Diariamente

durante

Mais de dois anos

Fonte da avaliação
Relação qualidade/preço
5
---
Easiest and best POS System
Great system. The hardware is constantly being improved. The credit card rates are always the best!
Vantagens
Clover is easy to setup. I like the app market which allows me to select what features and extra functionality I need.
Desvantagens
having to learn the interface takes a bit if you're not used to Android systems
Razões para mudar para o Clover
Better rates, better reporting, works with my bank.
Industry: Consultório médico
Company size: 11-50 funcionários
Usado

Diariamente

durante

Mais de dois anos

Fonte da avaliação
Relação qualidade/preço
3
---
horrible customer service
mediocre at best
Vantagens
ease of use-quick transactions when machine working correctly
Desvantagens
no problem with software, the machine itself is troublesome. Have replaced machine each year we have had it. Heating to print paper goes out. Very expensive to replace and a GREAT hassle to get customer service to reply and actually request machine to be replaced
Industry: Redação e edição de texto
Company size: Profissional autônomo
Usado

Diariamente

durante

6 a 12 meses

Fonte da avaliação
Relação qualidade/preço
0
---
Wonderful experience
Overall, I love this pr io duct, it streamlines my job and takes the hassle out of bill pay for the majority of my patrons
Vantagens
It's the best system I've worked with in my long career as a waitress/bartender. It cuts a lot of drawer count errors and bill split errors completely out of the picture.
Desvantagens
Like any software there are glitches, I like the inventory management the least but again that could very well could be more an administrative error.