Sobre o EZRentOut
EZRentOut is a cloud-based equipment rental solution that caters to businesses across various industries such as construction, event management, IT, sports and more. Features include contract management, inspection management, medical equipment rental, late fee calculation and scheduling among others. EZRentOut allows users to showcase their rental equipment and tools on the web and design invoices as per their business requirements. Users can also measure the performance of their staff members and keep track of their inventories and customer orders. Additionally, EZRentOut provides users with features such as label designer, location tracking, revenue tracking and supports integration with QuickBooks, Stripe, PayPal and Authorize.net for various accounting and payments related activities. Mobile applications for iOS and Android devices are also offered to users. Services are offered on a monthly subscription basis that includes support via phone and an online knowledge base.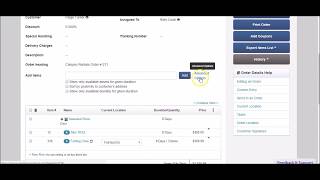 EZRentOut não possui uma versão gratuita, mas oferece versão de teste grátis. Versão paga do EZRentOut a partir de US$ 49,98/mês.
Preço inicial:
US$ 49,98/mês
Versão de teste gratuita:
Sim
Alternativas para oEZRentOut
Setor: Serviços de eventos
Porte da empresa: 51-200 funcionários
Usado

Diariamente

em

1 a 5 meses

Fonte da avaliação
Relação qualidade/preço
4
---
Excellent Platform for Managing Any Rental Fleet!
With EZRentOut, I am able to get rid of all the shared calendars and google doc spreadsheets and use one tool to manage all my assets. I can also use it for booking, and scheduling the event and day-of details. Very helpful!
Vantagens
Allows us to track and cross-reference assets in a lot of different ways. I can keep track of my fleet of rentals and ensure all our rentals are done well and payments are collected. The layout is very easy and simple. Nothing is overcomplicated and we have also found the customer support to be very efficient.
Desvantagens
There are not as many customization abilities for the platform as there could be. Would be nice if clients knew more of what was available on the calendar. Overall these are small problems.
Resposta de

EZRentOut

Hi Alex, we appreciate you taking out the time to review EZRentOut. We're delighted to know that our software helped you in getting rid of spreadsheets and is enabling you to manage all your assets on a single platform.

I have forwarded your feedback regarding our customization abilities to the product team and they will be looking into it. If you have any further questions or concerns, please feel free to reach out to our support team at [email protected]

Respondido em 07/12/2018
Setor: Entretenimento
Porte da empresa: 2-10 funcionários
Usado

Diariamente

em

Mais de dois anos

Fonte da avaliação
Relação qualidade/preço
5
---
EZRentout lives up to it's name
Again, the software does my 'thinking' for me, as my biggest demands are ' do i have..." certain items. i can quickly search my database, and see what i have, where i purchased it, how much it rents for, and if it is on the premises. Time is what i've saved...and time is Money. no doubt about it. Once i'm more comfortable with the access for clients, they will be able to search themselves..and that will in turn save me more time. I am happy with EZRentout, and feel the purchase price is well worth the software.
Vantagens
This software helped us track our inventory. We are a mid sized wardrobe house, and it is very difficult to keep track of real time rentals. (what is in and what is out) This rental software made is so much easier. It is affordable, and does mostly what we require. It does the work for us. It gives me time to think about the running of the business and any real time concerns. My clients are more confident because they can log in, and see what they rented, the condition it was in, and any other concerns they have. We looked at hiring someone to create a rental program for us, and the quotes we received would cost us over 10 years of the EZRentout subscription. !! So, for us it was an easy decision. Free up our thinking brains , let EZRentout take care of the tracking, invoicing, and billing. Customer service is easy to deal with, and we even let our subscription run out by mistake, and were able to just get back on board once we realised the credit card had expired...
Desvantagens
We have been with EZRentout for years. In the early years, there were many changes we needed, and other customers brought them to the attention on the EZRentout team...and now they have been addressed. Our business isn't straightforward...each client is different, with different requirements and individual billing differences. My complaint isn't really a complaint....i would say that because the software is perpetually improving, my complaint is that i keep having to learn new things....but I think that's excellent.
Resposta de

EZRentOut

Hi Caitlin,

Thank you for taking out time to write us a review for us.

We're glad to hear that you've been using EZRentOut for years and that we helped you track your inventory for your wardrobe house.

We appreciate your honest feedback and wish you continuous luck in learning new things.

If you ever encounter any concerns in the future, feel free to drop us a message at [email protected] and we would love to assist you.

Respondido em 24/02/2020
Setor: Serviços financeiros
Porte da empresa: 2-10 funcionários
Usado

Diariamente

em

6 a 12 meses

Fonte da avaliação
Relação qualidade/preço
5
---
Helpful Software
I was happy
Vantagens
I liked the fact that I was able to track all the orders at any given time.
Desvantagens
If you had a order that's duration was for 12 month's it would not automatically pull the order monthly. you would have to make it occurring.
Setor: Aparelhos médicos
Porte da empresa: 11-50 funcionários
Usado

Diariamente

em

6 a 12 meses

Fonte da avaliação
Relação qualidade/preço
3
---
Glitchy
It helps us to easily track our assets.
Vantagens
Ease of tracking our assets. This is literally all I like about this software.
Desvantagens
I have noticed many small things that are not really a major functionality issue, (aside from one that was a big problem), but more strange and confusing. On the bookings page, items that are to be rented out today, sometimes show up green, sometimes just black. I find the green beneficial when there happens to be a long list of upcoming rentals, but that function is not always working. Also, on many occasions, the customer's name on the bookings page will randomly change to my name. If I click on the order, the information within the order is still correct, I just find that quite odd and slightly ignorant. I often have an issue when selecting rent out order where it prompts me to enter tracking info, after I have already done so. Sometimes, it will leave the tracking info there and allow me to choose rent out order a second time, while other times it deletes my tracking number and I have to renter that info. This is not only frustrating, but inefficient. My final and largest complaint is concerning an order that I never received an email about (I have the system set to notify me 2 days in advance and day of order), nor did it ever show up in my bookings list until nearly a week after it was due to be shipped. That one really floored me. I check my bookings list multiple times per workday, and as I previously mentioned, I also have email notifications set up. Overall, the system is ok. I don't love it, but it works to get the job done for the most part.
Setor: Entretenimento
Porte da empresa: 51-200 funcionários
Usado

Diariamente

em

6 a 12 meses

Fonte da avaliação
Relação qualidade/preço
5
---
A software that makes my days easier
I came in a company that was struggling with inventory. We rent items and sold others. Thankfully EZ rent out makes the rented items easy to trace, find or locate. Of course you need to implement a work flow at your work place to make sure your team is using it correctly, but as a product EZ Rent Out feels like a great tool to me.
Vantagens
I only had a short training of the software when I was hired but it was enough as I find it easy to use. It makes my daily tasks easier and I no longer have to wonder where my items are as every is traced. I find it rather user friendly.
Desvantagens
I know some of my team mates tend to make mistakes because when they process an order, once the draft is created they think it is complete. Maybe something more "in your face" that lets you know you are still in the draft would be good. Other than that I can't think of anything else
Resposta de

EZOfficeInventory

Hi Alexandre, We are glad that EZRentOut has been a positive addition to our business. The order state is always visible right under the order number. We appreciate your feedback on making the order states more visible, if you have any recommendations on how this can be done than do let us know at [email protected] We look forward to hearing more from you. We hope to serve you even better in the future.

Respondido em 26/03/2021