Sobre o CANVAS
Canvas LMS from Instructure is a cloud-based learning management system (LMS) specifically designed for K-5 on up through higher education institutions. Canvas LMS is a scalable platform that can be used by educational institutions of all sizes and types, from individual classrooms to large universities with a blended or fully virtual learning environment. The Canvas platform offers complete LMS functionality for online learning including standards-based grade books, customizable student assessments, course content authoring, mobile communication, plus more. Canvas LMS can integrate with an educational institution's existing SIS and other teaching tools. Additionally, the Canvas App Center offers mobile-ready teaching tools that can add new functionalities to the platform. Over two hundred different LTI tools allow educators to customize courses and monitor engagement with classes or individual students. Canvas also offers native mobile apps for iOS and Android devices, allowing educators, students, and parents to view key information, share and receive updates, or submit results from anywhere at any time. With these tools, Canvas LMS offers comprehensive, high-quality mobile learning experiences.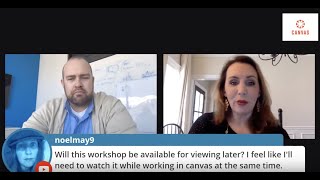 CANVAS possui uma versão gratuita e oferece versão de teste grátis.
Preço inicial:
Sem informação do fornecedor
Detalhes dos preços:
To learn more about pricing, please reach out to us directly. https://www.instructure.com/en-au/canvas
Versão de teste gratuita:
Sim
Alternativas para oCANVAS
Sandro roberto L.
Sandro roberto L.
Setor: Organização cívica e social
Porte da empresa: 51-200 funcionários
Usado

Diariamente

durante

Mais de um ano

Fonte da avaliação
Relação qualidade/preço
5
---
Canvas LMS é uma poderosa ferramenta para cursos e aulas on line.
A pandemia fez com que tivessemo que ficarmos afastados das nossas atividades para evitar a disseminação do Covid 19. Mas com o Canvas essas situação pode ser de certa forma sanada, por que pudemos continuar a ministrar as aulas e cursos para os Aprendizes, que de casa continuam o seu processo de formação. O Canvas é a melhor ferramenta para cursos e aula on line sem sombra de dúvidas
Vantagens
Facilidade de uso, adaptação ao diversos tipos de dispositivos, disponibilidade para uso em qualquer lugar, muito intuitivo. Com a pandemia o Canvas está sendo utilizado por nossa organização para aulas e cursos on line para os nossos aprendizes. A ferramenta é eficaz e muito estável, fazendo com que os aprendizes e os instrutores possam interagir como se estivessem em sala de aula física
Desvantagens
Falta opções para personalização, e conexões com pouca estabilidade demora um pouco para os vídeos carregarem
Joao paulo C.
Joao paulo C.
Setor: Contabilidade
Porte da empresa: 11-50 funcionários
Usado

Diariamente

durante

1 a 5 meses

Fonte da avaliação
Relação qualidade/preço
5
---
Muito bom excelente software
eu to aprendendo e praticando cada dia mais
Vantagens
A facilidade a disponibilidade de arquivos para trabalhar
Desvantagens
deveria ser tudo grátis seria bem mais facil baixar e instalar
Micheline V.
Micheline V.
Setor: Construção
Porte da empresa: 51-200 funcionários
Usado

Semanal

durante

1 a 5 meses

Fonte da avaliação
Relação qualidade/preço
5
---
Praticidade
Vantagens
A facilidade que tenho para estudar, todos os cursos aparecem e consigo me programar para estudar.
Desvantagens
O software é muito acessível, qualquer pessoa consegue mexer sem dificuldade.
Setor: Serviços e tecnologia da informação
Porte da empresa: Profissional autônomo
Usado

Outro

durante

Mais de dois anos

Fonte da avaliação
Relação qualidade/preço
5
---
CANVAS makes higher education accessible anywhere you have an internet connection!
CANVAS is very user-friendly and an all-around excellent way to engage in continuing education and life-long learning. Personally, as an older student, I love using CANVAS.
Vantagens
While I am unsure of the College's side in using this software, for me, as a student, I love using CANVAS. I enjoy travelling and with an easy-to-use, school-issued/provided LMS (Learning Management System/Software), I can take many classes online from anywhere in the world with an internet connection. The mobile application is robust and incredibly convenient, allowing 99% all-the-same functionality as the desktop version. Students can even take online quizzes and finals using their internet-connected mobile device (Smartphone). It is very user-friendly and an all-around excellent way to engage in continuing education and life-long learning as an older (personally, 42 years) college student.
Desvantagens
The only drawbacks to CANVAS I experienced were a loss of data if the active internet connection broke while in the middle of completing/submitting assignments and quizzes. I know that CANVAS has since implemented an auto-save feature on the quizzes, so that part of the problem is resolved. Whether or not this is true of the assignment submissions, I honestly do not know at this time.
Setor: Filmes e vídeos
Porte da empresa: Profissional autônomo
Usado

Diariamente

durante

1 a 5 meses

Fonte da avaliação
Relação qualidade/preço
5
---
College on the Web
Canvas is an excellent learning tool for most colleges and universities. Not only does it allow for assignments to be turned in over the internet but it also allows students to take quizzes and attend lectures through ConferNow and Zoom. It will notify you through email for any work that is assigned, work that is due, etc. Although it can be a bit complicated to operate through compared to other programs such as Google Classroom, it has all the features you would need in order to run a class online especially during a pandemic.
Vantagens
With the rise of Coronavirus and online options for college classes, Canvas has been a staple tool for students taking online classes and even with online assignments. Canvas, similar to Google Classroom, is a program that allows teachers to assign work through the web instead of wasting time printing and wasting paper. It allows students to be notified of when assignments are due and even allows them to take quizzes and test online. With most of the world being forced to do everything digitally Canvas allows access to Zoom through ConferNow which allows for teachers to schedule lectures and meetings. Canvas also allows you to message other students if needed. Without Canvas, school online would be incredibly difficult, and although Google Classroom is a solid option for courses in elementary school through high school, Canvas has more features such as users being able to directly embed LTIs such as Flipgrid.
Desvantagens
Although Canvas is better than Google Classroom in terms of the number of features, Google Classroom's interface is simpler and easier to understand than Canvas's. Google Classroom, being a Google program, also makes it slightly easier to turn in assignments using Google Docs, Sheets, Slides, etc. Canvas's user system can also use some work as well. Canvas may have the ability to allow you to see other students but it's obscure. There's no way to search for other people unless they're in your class and most people don't even know of the profile feature. Personally, I don't believe there are many problems with Canvas except that they should redo its design because to me it seems a bit bland and that they should make its interface a bit more simpler since it can be confusing to navigate through.