Sobre o iSpring Suite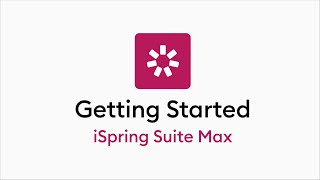 iSpring Suite não possui uma versão gratuita, mas oferece versão de teste grátis. Versão paga do iSpring Suite a partir de R$ 4.070,00/ano.
Preço inicial:
R$ 4.070,00/ano
Versão de teste gratuita:
Sim
Alternativas para oiSpring Suite
Avaliações do iSpring Suite
Setor: Administração pública
Porte da empresa: 201-500 funcionários
Usado

Semanal

em

Mais de dois anos

Fonte da avaliação
Relação qualidade/preço
5
---
Great product!
I use it all the time to create eLearning content. It has multiple applications, such as learning courses, quizzes, conversation simulations, flip books, and more. Highly recommend.
Vantagens
I have been using the iSpring Suite for a few years now, primarily as a PowerPoint plugin to create eLearning and publish it in Scorm 1.2 format. It's very easy to turn a regular PowerPoint presentation into an interactive eLearning course.
Desvantagens
It's a great product. Using the suite through PowerPoint is powerful, but limiting if you don't use Office365.
Resposta de

iSpring Solutions

Hi Adam,
Thank you very much for posting you detailed review here on Capterra. We appreciate it tons! Hope iSpring keeps serving you well :)
You also gave our Customer Support only 3 stars. Could you please share the details? Please send a message to [email protected] Thank you!

Respondido em 22/12/2020
Setor: Serviços e tecnologia da informação
Porte da empresa: 11-50 funcionários
Usado

Diariamente

em

Mais de dois anos

Fonte da avaliação
Relação qualidade/preço
5
---
The Total elearning experience in a Box
I have been suing the iSpring range of software for 6 years now and have been impressed with the way in which iSpring continues to add new features and enhance the products. The stability as a standalone product and the integration into Microsoft PowerPoint is something that iSpring can be proud of.
Vantagens
It is an all encompassing, seamlessly integrated product with all the features to create and deliver eLearning Solutions.
Desvantagens
Would be great to be able to comment on each slide in iSpring Space when doing quality Assurance with team members.
Resposta de

iSpring Solutions

Hello Vincent,

Thank you very much for posting your detailed review here on Capterra. We appreciate it tons!

As per your feature request, thanks a lot for sharing. I will pass it on to our Product Development team.

Hope iSpring keeps serving you well :)

Respondido em 09/04/2021
Setor: Gestão de organizações sem fins lucrativos
Porte da empresa: 501-1.000 funcionários
Usado

Diariamente

em

1 a 5 meses

Fonte da avaliação
Relação qualidade/preço
5
---
An intuitive time-saver
My job entails training those in caring professions how to use software - be it bespoke packages, or how to use Microsoft Excel to analyse statistics and everything in-between. Taking time out of busy and unpredictable schedules to attend an all day course on Advanced Excel is often not an option. iSpring Suite is allowing courses to be broken down into 15/20 minute 'learning episodes' that are more manageable. Furthermore, staff working nights are able to more readily access learning - something that was difficult in the past... Overall the software will improve access and participation, reducing IT Support workloads and helping ensure compliance, competence and ultimately provide more stimulating, engaging work.
Vantagens
The iSpring Suite bridges the gap between mundane PowerPoint based training, and more complex flash or HTML 5 based digital training, that requires a specific skills set that does not necessarily correspond with those of a teacher or trainer. It provides the right mix of interactivity to engage those of all learning biases, the versatility to cover almost any topic and a good range of assessment and analytics to simplify assessment and training effectiveness.
Given that there is almost zero learning curve with the software, and the SCORM compliance enabling use with any Learning Management System worth it's salt, it's a extremely cost effective solution that simply lets you get on with creating content.
Furthermore, should you be au fait with HTML and CSS, the output generated can by tweaked if required, but the standard interface and options provide a clean, user friendly and attractive front end to courses.
Desvantagens
The only slight tarnish on an otherwise perfect product is the lack of titling facilities within the screen/video capture module, iCamPro. This is a minor niggle, given that the iSpring Suite is integrated into PowerPoint, which can be used to bridge this shortfall through appropriate use of animation and export to WMV which can then be spliced into video files as required...
Resposta de

iSpring Solutions

Hello Paul,
Thank you greatly for posting this detailed and sincere review of iSpring solutions. We greatly appreciate it :)
If any questions come up, please don't hesitate to contact our Technical support department - [email protected] One of the specialists will be happy to assist you with your questions.

Respondido em 05/12/2018
Setor: Hospitais e Saúde
Porte da empresa: 51-200 funcionários
Usado

Diariamente

em

6 a 12 meses

Fonte da avaliação
Relação qualidade/preço
4
---
Outstanding customer service and quick to learn!
Overall this is a solid product with amazing customer support. I love the quick access to chat that allows me to get answers to questions, in the middle of the night or on weekends, or just in the middle of the day. They have been very available and usually I get a very quick solution to any problem I may have. They have tons of very quick YouTube videos you can use as reference and they are up-to-date and very well done. I have actually churned out a complete course in a day, which I was never able to do in my previous software, and it would run on a desktop, laptop, tablet or phone without me having to configure anything!
Vantagens
Very easy to start developing and launching learning since the base product is PowerPoint but they have adapted quizes, interactions and some really nice add-on features that help you turn out very effective and interactive learning courses.
Desvantagens
The inability to link quizzes in a course to get an overall final score. I also did not like that I can't create variables that I can assign values, and then use them in either text, or calculations, or whatever else I needed.
Resposta de

iSpring Solutions

Hi Alan,
Thanks a lot for sharing your thoughts about iSpring products and service. We appreciate it greatly.
It's nice to hear that iSpring's been working great for you so far. As per your Cons, could you please wrap it as a feature request and send more details to [email protected]?
Thank you and keep up the great work!

Respondido em 25/01/2021
Setor: Bancos
Porte da empresa: 10.000+ funcionários
Usado

Diariamente

em

Mais de dois anos

Fonte da avaliação
Relação qualidade/preço
5
---
For me, the best e-learning authoring tool!
As a consultant, I use i-Spring to create powerfull e-learning packages for several business units in Global groups. I-Spring is powerful enough to let me create, from PowerPoint présentations, fully animated content including voice over, videos, etc. Thanks to the ease of use of this software, I don't need neither an agency nor developers to produce those packages. So i-Spring let my customers save time and budget, which makes a big difference in the current 2020-21 economic situation.
Vantagens
Seemless integration into PowerPoint.
Powerful sound and video editing features.
E-learning packages work perfectly in major LMS such as Cornerstone or Syfadis.
Reactive and efficient technical support.
Desvantagens
The customization of the look & feel of feedback windows in the quiz could be implemented in order to ease the layout of questions.
Resposta de

iSpring Solutions

Hello Laurent,
Thanks a lot for posting your review here on Capterra! We appreciate it greatly. It's wonderful to hear that iSpring fits your needs just perfectly.
Hope it keeps serving you well :)

Respondido em 25/01/2021